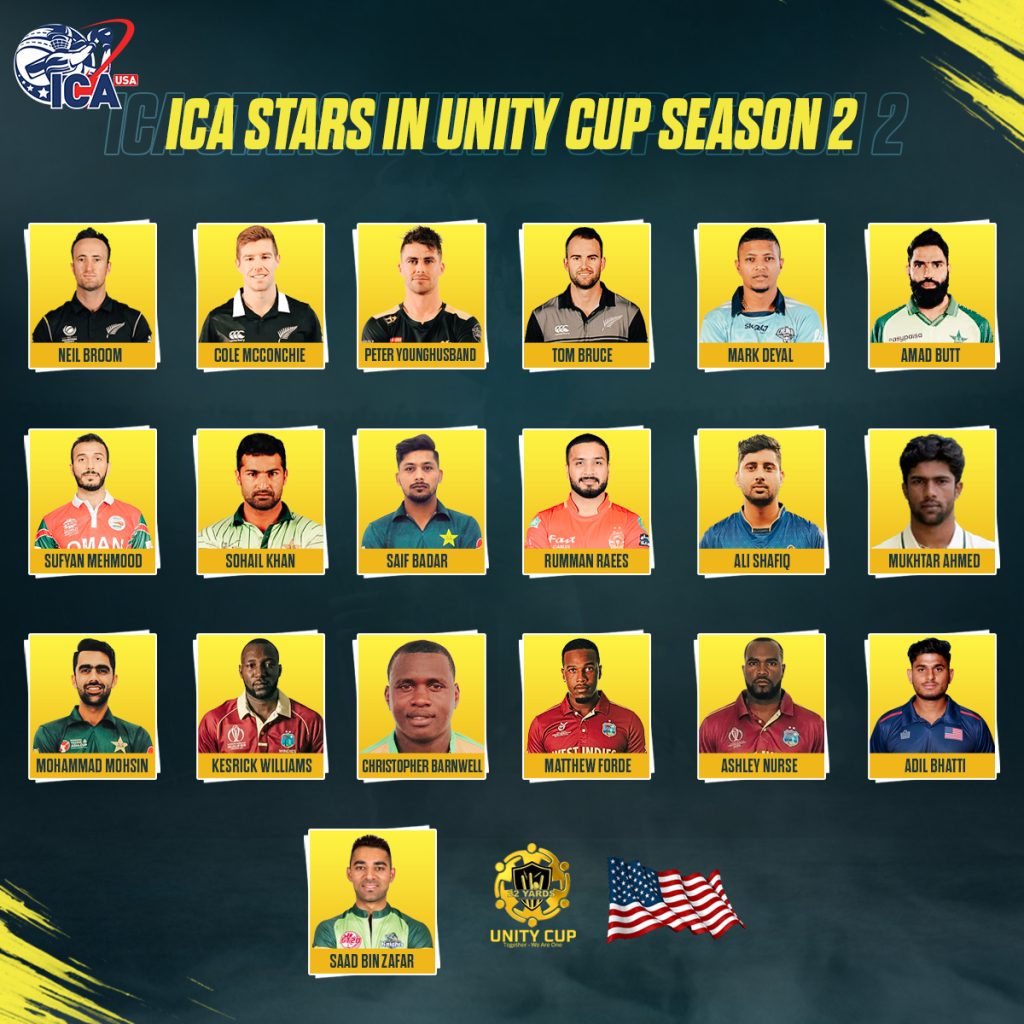 Bruce, Broom, Rumman, Nurse Along-With 15 Others Get Unity Cup 2022 Contracts:
The Unity Cup is a cricketing event happening in the USA on yearly basis. For the 2022 season of Unity Cup, International Cricketers Association (ICA) has closed out 19 successful deals so far for their deserving stars. International Stars like Kesrick Williams, Rumman Raees, Tom Bruce, Neil Broom and Ashley Nurse are amongst these 9 ICA superstars who will feature in the Unity Cup 2022.
Clarion County Asia United:
ICA managed to close out 3 successful deals of their clients in Clarion County Asia United team. Tom Bruce from New Zealand and Rumman Raees from Pakistan will be the biggest stars in this lineup, along-with 4 Promising Pakistani Players; Ali Shafiq, Amad Butt, Mohammad Mohsin and Saif Badar.Bruce is widely known for his extra-ordinary hard-hitting in the death overs of T20 Cricket.
Tom Bruce represented New Zealand in 17 T20Is. With over 2000 runs in 96 T20 matches in his career, Bruce is indeed a great choice by the Clarion County Asia United.
Rumman Raees is one of the finest death bowlers in T20 Cricket. In 110 games, Rumman Rees has taken 120 wickets and has an economy rate of 7.41. Rumman Raees was recently in PSL playing for Multan Sultans where he bowled with good economy.
Amad Butt is another T20 specialist in this lineup. With a batting strike rate of 145 in T20 cricket and with 80 wickets in 65 T20 matches, Amad is a very useful all-rounder in any T20 side.
Ali Shafiq is a talented pacer, with great progress in club cricket lately. The 25-Year old has so far played 14 T20s in his career and is known for his good line and length with the ball.
Saif Badar is another exciting talent with the bat. Saif Badar recently scored 2 centuries in a Club Tournament in the USA showing his tremendous potential with the bat.
Mohammad Mohsin is another potential talent who could be very useful with his leg spin. He has not played many T20 matches in his career, but he surely possesses the talent.
SAMP Army:
Samp Army will have two exciting Caribbean Talents in their side. Matthew Forde and Ashley Nurse will be part of SAMP Army. Nurse is a vastly experienced Caribbean star who has represented West Indies in 67 International Matches. Ashley Nurse is a utility all-rounder who can provide good enough batting help down the order, and is excellent with his economy rate with the ball.
Matthew Forde on the other hand is a good potential talent. He was a part of the West Indies U19 Squad in the U19 World Cup 2020. Forde picked up 6 wickets in that event in 3 games at an average of 20.33.
Potomac:
Cole McConchie, Kesrick Williams, Peter Younghusband and Neil Broom will be the in action for Potomac. McConchie, Youngshusband and Broom are the three Kiwi Clients of ICA whose deal was successfully closed out by ICA. Cole McCocnhie represented New Zealand in 5 T20Is. He is quite a reliable T20 batsman, and an excellent off-spinner. So far he has played 80 T20 games scoring 1124 runs and picking up 54 wickets.
Neil Broom on the other hands is a experienced international batter from New Zealand. He has played 160 T20 Matches so far in his career and has a strike rate of 122. He has a high score of 117* in T20 Cricket.
Peter Younghusband has been a handy leg-spin bowler. At an average of 27 he has picked 20 wickets in his T20 Career so far.
Kesrick Williams is a big name in T20 Cricket as he has 140 wickets in 109 T20 Matches. Williams has represented West Indies in 26 T20Is picking up 41 wickets in his international cricket.
Cavaliers 22 Yards:
Sufyan Mehmood and Sohail Khan will be the two ICA stars playing for Cavaliers 22 Yards. Sohail Khan brings in the vast experience of 120 T20 matches in this lineup. Sohail has 137 wickets in his T20 Career at an average of 25. Sufyan Mehmood on the other hand has played just 6 T20 games in his career, but is quite efficient with his medium-pace bowling.
Others:
Amongst other players, hard-hitting Pakistani opener Mukhtar Ahmed will feature from Stallions X in the event. Left-arm spinner Saad Bin Zafar will be seen playing for Florida Scorpions. Adil Bhatti will play for DMV Warriors. All-Rounder Christopher Barnwell will be in action for Atlanta Fire while explosive Top-Order batter Mark Deyal will play for SKKY Strikers.
ICA Chairman, Moghees Sheikh says that he is excited to watch all of his 19 clients in action in the Unity Cup 2022. The Chairman also ensured that he is dedicated to work harder to provide more and more opportunities to the players associated with ICA.