ICA authorizes a deal with Naseem Shah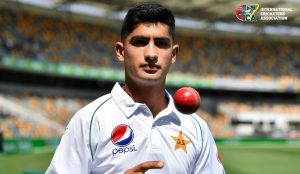 The International Cricketers Association (ICA) has pen out a deal with Naseem Shah, the right-arm fast bowler. The Pakistani pacer is now the agency's latest signed-in player.
The bowler has donned Pakistan jersey in 9 Test matches digging out 20 wickets with a BBI of 5/31 averaging 42.45 at an SR of 67.40. Impressively, Naseem has 54 wickets to his name whilst representing specific domestic teams in first-class cricket.
The young chap has many records in his chapter of the cricketing fraternity. Surprisingly, Naseem is the youngest player to bag the five-wicket-haul in Test cricket. Aging 16 and a few days, he achieved the feat vs Sri Lanka during the home series in 2019.
Consequently, he becomes Pakistan's second youngest bowler to yield a five-wicket haul. Naseem is also the youngest-ever Test bowler to take a Test hat trick – this milestone came on day 3 of the first Test vs Bangladesh in Rawalpindi last year.
Not only this, he adjoins a few players being the youngest to don the national jersey on an international level. He was only 16 years and 279 days (overall 9th youngest) whilst playing his maiden red-ball game.
ICA is fulfilling its purpose to promote the sporting alliance, achieves bigger milestones every day signing in the great names from the sporting community. Not only athletes, but global's biggest drillmasters are also the agency's part that renders mutual benefits for the two terminals; ICA and its clients.
Notably, Moghees Ahmed, the CEO of the organization, is creating value for all his patrons. He has never failed to amplified interest in the cerebrum of the global cricketers that entice them towards the forum. Endorsing the lad, Moghees stated,
I'm excited to have him on our roster, he is a fantastic young fast bowler with multiple accomplishments in the beginning years of his career. He indeed has a long way to go.
Also, see: