Mohammad Abbas to represent Hampshire for the first two months of County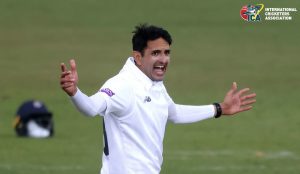 For the momentary County Championship season, Mohammad Abbas, the
Pakistani
flawless pacer, is set to join Hampshire.
Hampshire's county contracted the bowler in March to represent the realm in the first two months of the contest.
Undeniably, Abbas is listed among one of the best seam bowlers since making his debut. He holds the third- best bowling average among all present bowlers as the chart is topped by Jasprit Bumrah, Pat Cummins respectively.
The International Cricketers Association (ICA) owned player will line up alongside Kyle Abbott and other overseas participants. He earlier played for Leicestershire before the county's last season was sacked.
Notably, ICA is glad to have him on its forum. ICA Academy is fulfilling its mission to promote the sporting alliance, achieves bigger milestones every day signing in great names from the cricketing, sporting community, and promoting cricket/sports at the grassroots.
Moghees Ahmed, the man behind the agency, has gathered his interest in sports altogether to form the forums, ICA and ICA Sports Plus. He never fails to meet his clients' satisfaction dealing with players' marketing as a sports marketing expert.
Also, read: