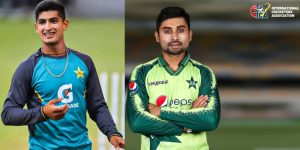 Pakistan's bowling and all-rounding delights, Naseem Shah and Danish Aziz, have been signed by the Khatmandu Kings XI and Chitwan Tigers, respectively, for the Everest Premier League (EPL 2021).
Both of them have been delivering promising performances for the team they play for. Danish, new to international cricket, has been a prominent part of Pakistan's domestic arena. On the other hand, Naseem, getting his maiden international call in 2019, has bagged 20 wickets in 9 games.
The players are in a contract with the International Cricketers Association (ICA), fulfilling its purpose to promote the sporting alliance, achieve bigger milestones every day, and sign in the cricketing community's great names.
Not only players, but global's biggest drillmasters are also the agency's part that renders mutual benefits for the two terminals; ICA and its clients.
Notably, ICA is owned by Mr. Moghees Ahmed. The chairman, CEO, founder of the agency has been working in close collaboration with the sports bodies, especially cricketers, providing them a chance to flourish their careers gaining the spotlight in the fraternity.
ICA's Naseem Shah, Danish Aziz to feature in Everest Premier League
It is pertinent to mention the fourth publication of the EPL is programmed to play from 25th September to 9th October in Kirtipur. The event, since its indoctrination, has been cataloged by EPL Pvt. Ltd., a private group in Nepal run by Aamir Akhtar.
Also, see: