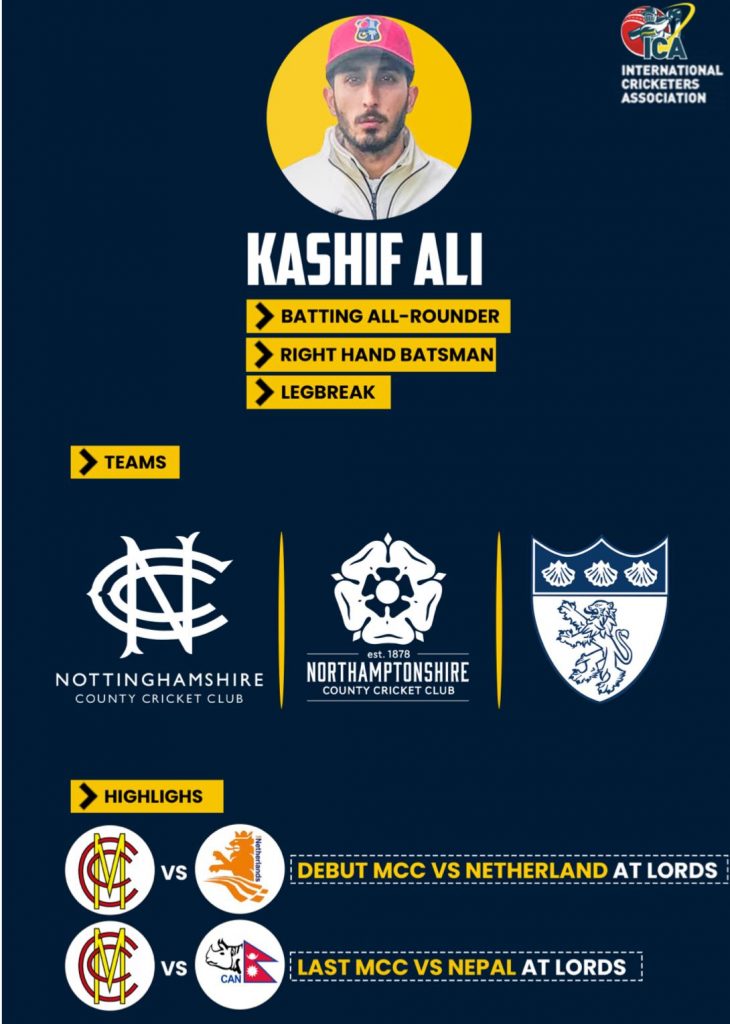 Kashif Ali, the Kashmir-born English cricketer has furnished his batting all-round skills under the International Cricketers Association (ICA) for a longer tenure and is now reliable to highlight his expertise in top-notched tournaments.
ICA's delight, Kashif was signed by one of the Kashmir Premier League's franchises, Rawalakot Hawks, being lead by Pakistan's renowned Shahid Khan Afridi.
Kashif Ali manifests ICA in KPL 2021
As KPL 2021 proceeded with its tenth game, Kashif inspired the watchers scoring 54 runs off 40 balls for the Hawks contributing to the team's third consecutive triumph.
Missing out on the next two innings lacking fortune, he made a magnificent comeback today versus the Mirpur Royals to flee them off the tournament.
His 46-ball ton has dragged the Afridi-led team in KPL 2021 final where they will compete with the home side, Muzaffarabad Tigers.
Kashif has stayed a crucial part of numerous English counties representing MCC, Somerset, Northamptonshire, Nottingham cricket clubs.
Working under Raheem Ali, the renowned coach, Kashif has been able to polish his expertise by getting a chance to don different jerseys for distinct teams.
Notably, Raheem is a multi-lingual self-employed sports coaching and exercise graduate, with varied sports-related work experience and strong interpersonal skills.
He is now pursuing a career in cricket as a professional coach across the globe in various teams and competitions. He has been a coach/fielding consultant for SNGPL in 2019, head coach for Team Eagles in the Norwegian Premier League in 2018, and for the ICA since 2017.
Not only this but he has mentored Leicestershire County Cricket Club since 2015 and Activate Sports/Andrew Flintoff Cricket Academy since 2015.
It proves that ICA is not only providing a forum to young and aged cricketers but also welcoming the trainers to smooth and render their services gaining limelight in the cricket fraternity.
ICA Academy is fulfilling its purpose to promote the sporting alliance, achieves bigger milestones every day signing in great names from the cricketing community, and promoting cricket at the grassroots.
Moghees Ahmed, the man behind ICA has gathered his interest in sports altogether to form a forum, the International Cricketers Association (ICA). The chairman, probably the CEO and founder of the agency has been working in close collaboration with the sports bodies alongside assisting grassroots cricket.
Also, see: