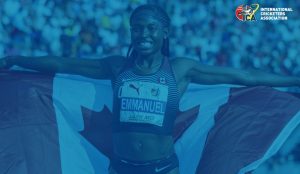 Canadian fastest sprinter, Crystal Emmanuel, generated surprising results in the women's 200m in Tokyo two weeks ago.
Emmanuel, who made it to the semi-final in the women's 100m, ran season's best in 200m 22.74 to win heat 6 advancing directly to the semi.
However, the fortune strikes here as she will depart her third Summer Game without the prime appearance in the 100 or 200m final sustaining a hip injury.
The Toronto-based lady clocked 23.05 seconds to place sixth in the second of three semifinals in the women's 200 following a season-best 22.74 in the heats earlier Monday at Tokyo's Olympic Stadium.
Conversing with media shortly after the race, she added,
"I came out to execute a good semifinal [but] unfortunately I couldn't do that. I'm feeling a little bit of pain in my hip. I have to listen and go with what my body tells me."
Moments later, her coach, Charles Allen confirmed the damage via a text message. The message did not conclude the details on the severity or which hip is injured.
Emmanuel has showcased progress in the 200m throughout her Olympic vocation being placed 21st in her 2021 debut in London, 23rd in Rio four years later, and 18th at these Games. She plausibly could have anticipated more in Tokyo after sprinting 22.65 at the 2019 world championships.
A month ago, ICA SportsPlus were overwhelmed to welcome Crystal Emmanuel, the world's 7th fastest Sprinter who specializes in 200 meters.
Her motive is to empower all sporting women alongside polishing her existing expertise to an 'extra' extent. Crystal's objective is to be the greatest female sprinters of all time.
Notably, ICA Sports Plus is a chapter of ICA which deals with athlete's marketing and sponsorships. ICA sports plus have footballers, celebrities, sprinters/runners, and a vast list of other sporting celebrities.
It is pertinent to mention that behind the mentioned organizations is Mr. Moghees Ahmed, who is working in close collaboration with big sports celebrities, especially cricketing names across the world.
He is creating value for all his patrons. He has never failed to amplified interest in the cerebrum of the global cricketers that entice them towards the forum.
Also, see: