Imran Tahir begins his chapter with ICA Sports Plus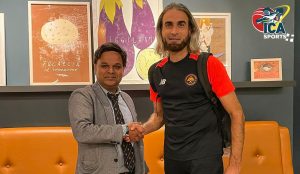 The International Cricketers Association Sports Plus (ICA Sports Plus) is overwhelmed to embrace Pakistani-South African cricketer, Imran Tahir, on the forum.
Tahir, using googly as the most dangerous weapon in the limited-over cricket, holds a range of variations alongside the bubbly celebrations for getting a wicket – usually longer than the run-ups of fast bowlers.
The 42-year old, probably one of the best leg spinners of his regime, has featured for over 50 worldwide cricketing teams including the English counties, IPL teams, Pakistan, and Proteas domestic arenas.
He migrated from Pakistan to South Africa via the United Kingdom for the love of a lady and worn over 25 jerseys for 25 distinct teams during that tenure.
Consistently picking up wickets in first-class, List-A cricket, he was named in South Africa's squad vs England for home series in 2010 but was declared negligible to play. Consequently, he returned to the domestic circuit where he plucked up a pile of wickets to invigorate the superintendence.
A few days after he was acclimated, Imran Tahir was baptized in the ODI squad vs India. But he had to anticipate to mark an international appearance for the new realm till ICC World Cup 2011.
Tahir finally made his international debut during the World Cup 2011 and inspired the watchers immediately ending up as South Africa's second-highest wicket-taker.
Later, that summer, he made his Test debut versus Australia at Cape Town. Every rise hath a fall hence, Tahir's downfall borne some unbearable records as the leg-break bowler conceded 260 runs picking no wicket in his 11th red-ball contest.
All the hype earned from the domestic level went in vain as Tahir was dropped from the squad registering an unwanting record, 'worst economy rate in an inning', and still is considered fifth for the feat. But still, it is contemplated the most expensive return in red-ball cricket history without a wicket.
Imran Tahir begins his chapter with ICA
Tahir carved his way in the shorter format cricket than red-ball and found himself drape there. He made his T20I première against Sri Lanka in 2013 and has been topping Proteas or the world spinners' list since then.
He has bagged 173, 63 ODI, T20I wickets with his best hauls of 7/45, 5/23 respectively. Tahir has 784, 369, and 407 wickets to his name in first-class, List-A, and T20 cricket with his superior spells of 8/42, 7/45, and 5/23.
ICA is glad to have a shining star on its platform. ICA Academy is fulfilling its purpose to promote the sporting alliance, achieves bigger milestones every day signing in great names from the cricketing, sporting community, and promoting cricket/sports at the grassroots.
Moghees Ahmed, the man behind the agency has gathered his interest in sports altogether to form the forums, ICA and ICA Sports Plus.
Notably, ICA sports plus' is a chapter of ICA which deals with athlete's marketing and sponsorships. ICA sports plus have footballers, celebrities, sprinters/runners, and a vast list of other sporting celebrities.
Also, see: