Kashif Ali joins Social Lashings for Minor League Cricket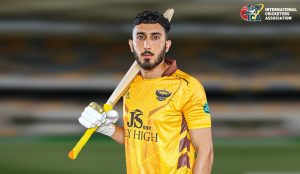 One of the signees of the International Cricketers Association (ICA), Kashif Ali has been drafted by Social Lashings for the inaugural release of USA's Minor League Cricket.
Kashif, the Kashmir-born English player, after furnishing his batting skills, is delivering services to the top-notched cricketing tournaments across the globe.
His recent task was the prime edition of the Kashmir Premier League (KPL 2021) where he became the first Kashmiri player to register a hundred.
Playing for the Rawalakot Hawks, he accumulated 188 runs in 6 innings averaging 47 at a strike rate of 171 alongside inspiring the watchers to score 54 runs off 40 balls contributing to the team's third consecutive triumph.
He once again added 54 off 29 balls in the final showdown vs the Muzaffarabad Tigers and lifted up the trophy alongside Shahid Afridi and chaps.
The 23-year old has played a crucial role in several English counties and now will be in the limelight of the Lashings' team in the 203-match-long contest among 27 teams. Notably, the league is going to be the most extensive high-level cricket contest to ever take place in the United States.
Mr. Moghees Ahmed, the founder, and CEO of the ICA is overwhelmed to see his players rising beyond the heights. The man behind the agency has gathered his interest in sports altogether to form the platforms, ICA and ICA Sports Plus (a sister company of International Cricketers Association).
Notably, he has a track record of management of top-class cricket players and teams. Having traveled extensively, and with good contacts throughout the cricket world, he has organized numerous exhibition/charity matches featuring some of the great names of the game.
Also, see: