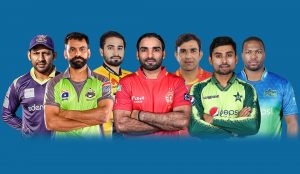 22 ICA players who were part of HBL PSL 6
International Cricket Association (ICA) has been on a roller-coaster of accomplishments operating boastfully with past and present cricketers and coaches. The forum is better kenned as the home of cricketers and coaches.
Latterly, working in collaboration with the Pakistan Super League (PSL), ICA has represented a vast catalog of its cricketers competing in the show, PSL 6. The list comprises 22 players showcasing their respective franchises in the sixth edition of the league.
The roster includes the renowned names of:
Mohammad Hafeez, Sarfaraz Ahmed, Asif Ali, Sohail Khan, Hussain Talat, Ammad Butt, Waqarsalam Kheil, Arish Ali Khan, Hammad Azam, Waseem Mohammad (UAE), Khurram Shahzad, Faheem Ashraf, Iftikhar Ahmed, Mohammad Imran Randhawa, Azam Khan, Sohaibullah, Ahmed Safi Abdullah, Johnson Charles, Danish Aziz, Mohammad Akhlaq, Mohammad Haris Ahmed Sultan
Many among the specified ICA stars have flaunted ingenious displays in the PSL 6.
Sarfaraz Ahmed, the captain of the Quetta Gladiators, although could not top the points table, but showed an ingenious piece of performance thoroughly – he is one of the highest-run makers of the season whilst batting three down that makes him the sixth-highest run-getter of the PSL 6.
Sarfaraz's chap, Arish Ali Khan, could not don Gladiators' jersey in many of the encounters but stole the show in the only he played.
Similarly, numerous of the mentioned players, despite their absenteeism in the primary leg of the game, displayed their terrific performances in the second leg to keep up the teams' enthusiasm.
Moreover, multiple among the mentioned ones represented their respective teams throughout the tournament carrying out with dedication. Mohammad Hafeez, Iftikhar Ahmed, and Asif Ali can be the illustrations who thumbed up while portraying the contest.
It is pertinent to mention here that PSL 6 first leg, which took place in Karachi, had to be rolled up amidst the COVID surge in the country. With the decision to move it to the UAE, the authorizations had to undergo a player replacement draft to fulfill the vacancies following players' refraining.
As a consequence of all games bounded up, Multan Sultans are crowned victors of the HBL PSL 6. ICA is looking to serve the cricketing fraternity with the same devotedness towards the niche.
You are reading: 22 ICA players who were part of HBL PSL 6
Also, read: