ICA signs in Maham Tariq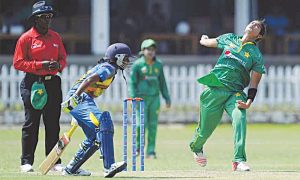 The International Cricketers Association (ICA) is delighted to welcome Pakistan's right-arm fast-medium bowler, Maham Tariq.
The Karachi-born cricketer has served her homeland in two formats; One-Day International (ODI) and Twenty-Twenty International (T20I), rendering remarkable performances with the bowl.
Not only being a part of the Pakistan women's national team, but she has also conferred skillful displays in the National Triangular T20 Women's cricket championship.
The 23-year old lady first became part of the National squad in 2014 for two of the formats. Lastly, representing the realm back in 2017, she is once again enthusiastic about stealing the show being named for Pakistan women's tour of the West Indies.
Maham has donned the green jersey in 8 ODIs and 3 T20Is, digging 5 and 1 wickets, respectively. ICA and its bodies are profoundly relished over her inclusion in the 26-player women squad versus the West Indies.
ICA will now represent her as one of its signings in all her professional engagements. It creates massive opportunities for her for commercial endorsements, playing, and farthest public appearances.
Notably, she is not the only Pakistani player to get signed by ICA, but the organization has a sack of green players at its forum. The agency was founded by Moghees Ahmed, a sport marketing professional creating value for all clients. Embracing Maham, he said,
We are looking for a well-off journey with Maham endorsing her doom. We wish good luck to the lady for her future. ICA is fascinated over her addition as one of the new signings.
Also, see: